Los Angeles Bohemian Wedding Vibes
Hello there! It's been awhile since we hit the blog. There is a good explanation...it's wedding season! Packing, transporting, styling, crafting, and tearing it all down only to rinse and repeat leaves us little to no time to flex our literary muscles. But, we wanted to show off pictures from a shoot featured on The Inspired Bride in our own words. We believe Bohemian resonates a certain vibe: ethereal, romantic, and free-spirited. If this is your style, we hope you enjoy this--whether you want to work with us, or just pin ideas to your mood board.
We absolutely love this couple. Styled shoots, like weddings, often have last minute upsets which can either create a make-it-work moment, or cause things to completely unravel. In our case, it was the former. Our model, Tina, was originally cast opposite another male model--not her ride-or-die partner in life. Unfortunately (and fortunately), he canceled last minute. Lo and behold Tina's boyfriend, Ryan, also a fellow thespian, stepped in and filled the void with utmost professionalism. He was a team player, cooperative, easy to work with, and most importantly these two had incendiary chemistry. Pairing individuals that aren't real life couples, even if they are gorgeous, doesn't always work. These two, both beautiful inside and out, warmed the space with their love; their romance was easy to capture. The best part was their little dog named Diogii (pronounced D-O-G) came ready to work as well. How cute is she? We love when pets are part of the wedding, or even a photo shoot.
This shoot was particularly appealing to us when Tay Simms of C.A.S. Experience, who gorgeously styled hair and makeup, approached Provenance Rentals to work on a Boho-themed collaboration. We wanted lots of color, mismatched prints and patterns, gold, lace, and anything 70's. Nothing says Boho-chic like a rattan peacock chair. We gushed over the florals designed by The Flower Method. Sarah Siegel, the owner, created gorgeous arrangements that included non-traditional elements like cabbage and bay leaves. It was daring, yet appropriate--reflective of the personalities of Boho-inspired couples. We also love the bay leaf runner that contoured the fan-back of the peacock chair. Bohemian Game of Thrones anyone?
To set the scene, we handmade dream catchers from vintage doilies and different lace, trim, feathers, and beads. Our vintage pop-up vanity served as the bar with textured goblets in clear cut glass, gold-rimmed flutes, and amber goblets. Additionally, we layered vintage lace and a stack of adorable books with differing printed covers. The couple's picnic-style head table was a rustic steamer trunk paired with pink and blue goblets and plates, handmade burlap and ikat flatware holders which held our vintage gold flatware, our circular brass vanity tray and our collection of pillows and one of our blankets. Our gold leaf nesting tables, which are ever-so-popular, showcased the naked cake by Lizzie's Bakery as it rested on our wood slice and pretty lavender delicately adorned the sides and top.
Our bride and groom looked gorgeous and relaxed. Tina wore a lace custom-made gown by Deborah Lindquist and the groom actually supplied his own adorable bow tie. It all came together, and we can't wait for you to see more of our vintage rentals and Boho rentals on our site. We recently acquired a macrame backdrop, a white faux fur rug, a rattan side table, boho pillows and blankets, and we are currently fabricating a copper pipe arch.
Please check out our ever-evolving vintage rentals (and Boho) collection, and thank you for reading. Be sure to check our blog for more entries to come, and another Boho-shoot in Joshua tree that we can't wait to share with you lovelies. xo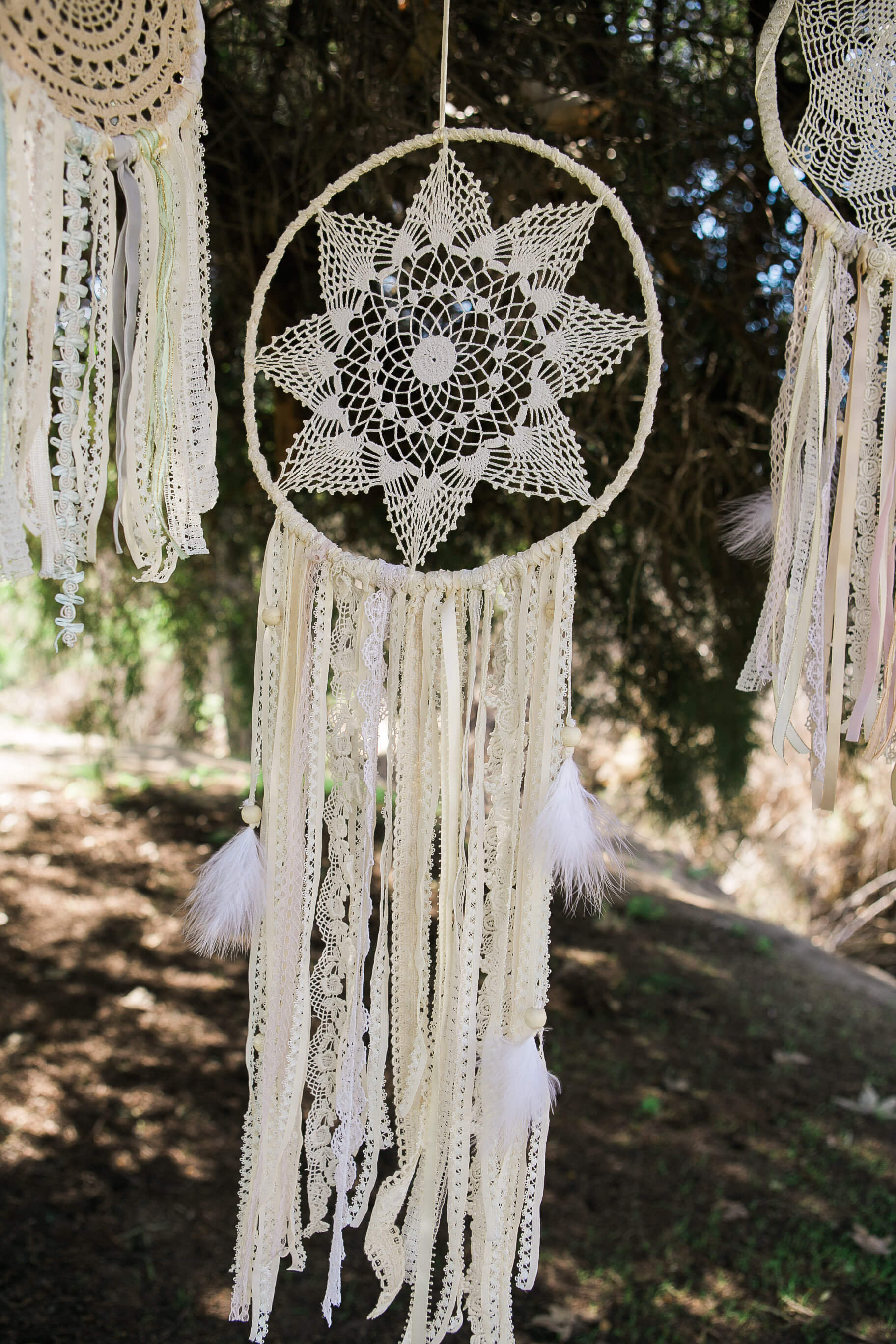 Don't forget about decor...
Decor adds value to photos. If we didn't incorporate the picnic-style table setting, the peacock chair, our handmade dream catchers, our vintage vanity and nesting tables, along with a slew of other Boho props (need I point out the real deer antlers?), you wouldn't know we were going for a Bohemian wedding. Decor sets the tone. Decor transports you and your guests through the fantasy and carries out your vision. It is not simply inanimate objects, but pieces of history that have been through people's lives and here to create a beautiful and lasting memory for your wedding (or event, think baby and bridal shower, photo shoots and much more). Each piece in the Provenance Rentals collection is carefully sourced and vetted if it will fit and work for you and your wedding.