How to Throw a Unique Bash Like This Grand Budapest Hotel-Inspired Shower
Bridal showers are becoming closer in budget, theme, and style to weddings. Visual inspiration from Pintrest and Instagram are helping party-throwers up the ante. If you want your bridal shower to be unique, yet chic, here are a few tips for throwing one as elegant as our dear client, Cursta, who opted for a Grand Budapest Hotel-themed bridal shower. Inspired by the visually stunning and romantic film by Wes Anderson, Cursta and her team of vendors pulled out all the stops for a one-of-a-kind bridal shower.
1. Budget. With any larger scale event, create a budget and determine how much you are working with in order to pull off something extraordinary. Even if your shower is smaller in scale, these rules still apply. In fact, if your shower is smaller you can still have a gorgeous party since your guest count is smaller allocate that money to things like decor, beauty, photos, and anything else you want to stand out. Prioritize on what is important to you.
2. Set A Date. Superstar planner Jeanette Yoon, of Skybox Event Productions, on this Grand Budapest Hotel-inspired themed shower strongly advises to set a date. This will help get your planning in motion and having a deadline to complete things. If you know your wedding date, you should space out your bridal shower (or engagement party) with enough time so that guests can plan, enjoy, and attend all of your wedding events.
3. Theme. What message do you want your guests to walk away with? Make your shower something personal. Are you a vintage bride-to-be? Is travel a big part of your personality? Or you a boho girl who loves outdoor festivals and you want your guests to feel like they are right there with you? Whatever your style or personality, figure out your theme and this will also help guide you in finding the perfect venue. Also, start a Pintrest board and pin ideas and images. If you want to keep things under wraps make the board secret.
Our bride-to-be, Cursta, loved the movie The Grand Budapest Hotel. This was the clear theme woven throughout her party from stationery by Paper Sandwich, to timeless decor by us Provenance Rentals and Found Rentals, to desserts by Grace and Honey Cakes as well as Paper Street Cake, to centerpieces by Lovesome Blossoms and table numbers by Happily Ever Etched, and even the color of her linens. It is seamless and cohesive from start to finish; the perfect nod without being overly literal. She nailed it while remaining elegant.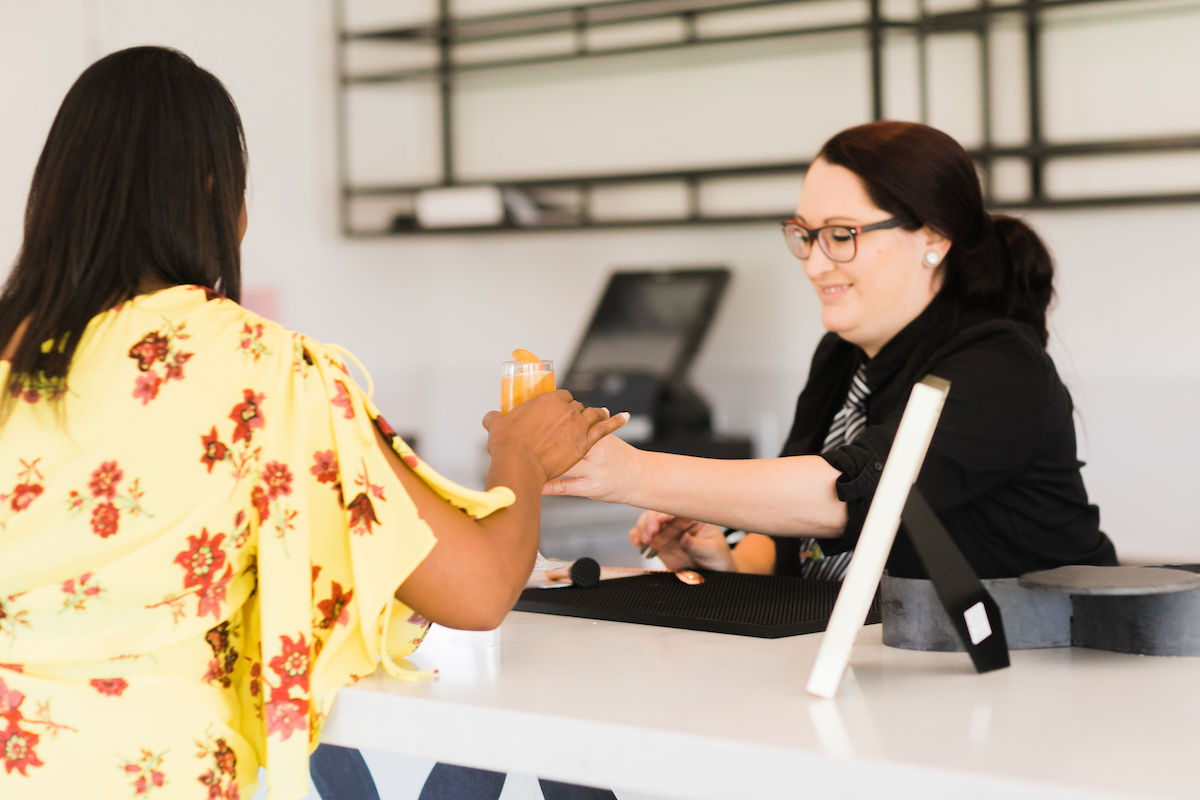 4. Venue. If you know the look and feel of your party, you will need to find where you want to host it. If you want a garden party like Alice in Wonderland, it can even be a beautiful backyard where your guests wear sundresses and have tea and biscuits. Hang some books from trees and stack some tea cups on saucers. If it is a bit more modern and chic, you might want to opt for a more commercial space like The 1912 in Santa Ana like our client had for her bridal shower. Cursta had her shower at a sleek, industrial, yet light and airy event space with a blend of a vintage and modern feel. She required a large space to host her grand party.
5. Hire a Professional Planner. In order to enjoy your event, a reputable, professional planner is a must especially when pulling off a themed-shower to help with design choices. They will steer you in the direction of quality and what fits your budget, as well as finding vendors, sourcing the perfect decor and rentals, acting as the liaison with your vendors and venue, and ensuring all last minute details are properly handled. Events, although fun, are also very stressful. People often overlook all of the invisible work. The most important thing is if you are making the investment to throw an epic party is you need to enjoy it. Jeanette from Skybox Event Productions was the lead planner on this event. She juggled everything from vetting preferred vendors, to design, picking up will call items, ensuring certain shots were captured for the photos to tell the story of this unique bridal shower, and much more. She lends some helpful tips for looking for a top-notch planner that meshes with your personality. "When hiring a planner make sure to do all of your research. When you have a consultation, ask them particular questions like: what was the most bizarre experience you had during a wedding? Or how did you handle a really stressful situation that was unexpected? The consultation should feel like an interview, because you are trying to find the right planner that fits you!" Planners handle a lot of undesirable work that allow you to savor your event. Do you really want to be fumbling with certificates of insurance from all your vendors while trying to contact your hair and make-up artist to create the perfect look? The answer should be no.
6. Invest in Professional Photos. Of course you might think I am already paying a lot for my upcoming wedding. This is true. Also try talking with your already retained wedding photographer. They will know your style and how to get you at ease before getting some posed and candid shots. You want to look back on these memories and cherish them. Your photos and videos are the best ways to do this. Also, if you seek to get your shower published, it is great to work with a professional photographer who might have existing relationships with larger publications as well as other reputable vendors. Be sure to ask if a second shooter is required if you have a lot of details. If you haven't hired your photographer yet, be sure to get recommendations from your planner, check out their websites and Instagram portfolios, and get a feel for the style you want (light & airy, posed, documentary, lifestyle…). Simply Adri delivered light and airy, romantic, and timeless photos documenting all the details and told the story of The Grand Budapest Hotel-inspired bridal shower, while taking some beautifully posed images with the natural light.
7. Nailing Your Look. Wardrobe is so important as is beauty. You will want to be comfortable, yet elegant. After all you are the center of attention and all eyes are on you. Most likely you will already camera-ready as your wedding is fast approaching, but look for a stylish, yet comfortable dress (we love dresses with pockets!), or outfit, and hire a great team for your hair and makeup. Luckily, your planner may know some great choices, but if not, other vendors might and always check beauty vendors' reviews and Instagram accounts and other socials for their portfolios. Also, invest in trials, especially if you plan on using the same team for your wedding anyway.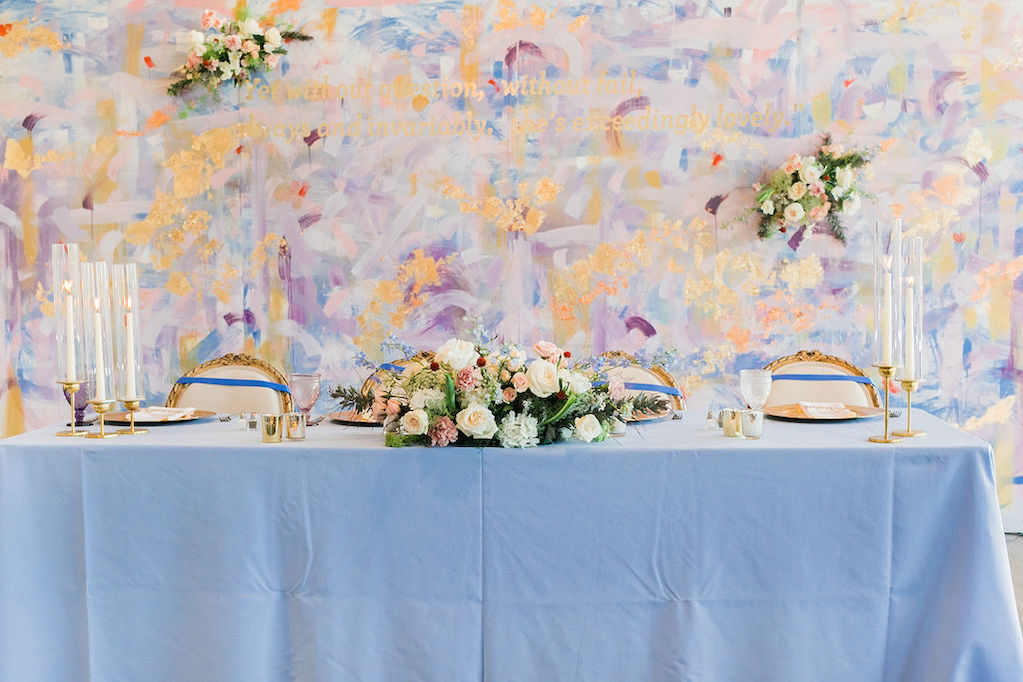 8. Create Stations and Vignettes. Guests love details (and so do we!). This also will look great in photos and really tie the theme together if you are going for more unique over general pretty bridal shower. Have beautifully-designed and balanced tables like cake tables, champagne bars, gift tables, welcome tables, and lounges. Don't be afraid to use different heights, serveware, textures and objects. It makes vignettes much more visually appealing. Cursta's dessert table had different levels and objects with the luggage and books creating space and varied height. Guests love when you create an experience for them. There are bridal showers happening all over the world all the time, so what can make yours stand out and be special?
9. Details, Details, Details! This ties into the personality aspect of the shower. Here, Cursta spared no expense on the details. She made sure that the theme of The Grand Budapest Hotel was apparent. The skeleton keys were part of the stationery by along with favors at the guests' seats. There were also carefully crafted Mendl's boxes with blue ribbon by Paper Sandwich as favors for the guests and decorated cookies shaped like Mendl's boxes, the lobby boy wardrobe and skeleton keys by Paper Street Cake. Even the balloon garland crafted by Lovesome Blossoms and linens by Orange County Linens mirrored the colors of the film. Also, our vintage books, globes, and luggage tied in nicely with the setting the old-world hotel in the movie.
10. Plan a Special Menu. What you serve your guests will be one of the most memorable things. Work with caterers you trust that source great food and have wonderful talent. The best way to do this is through a tasting. Your venue and planner should have great recommendations like 24 Carrots Catering & Events, but don't be afraid to find your own and see that your venue allows outside catering. Also, study your source of the theme — what dishes were in the movie, book, or wherever you drew your inspiration? This can be a great and fun way to continue the experience. And decide whether you will have passed appetizers, buffet style, plated sit-down style, or some combination.
11. Make it Unique, Personal, and Fun! What do you want to do that is different? Make your shower memortable with some fun! At Cursta's shower, she had a delightful photo booth with all sorts of props by Third Eye Photo Booth. Guests really enjoyed themselves and let loose. You don't have to be stuffy and formal, even if this is a fancy fete, or you have a particular theme. Most importantly don't forget to breathe, have a good time, and enjoy it as it will be over before you know it.
xo, Provenance Rentals